Mutiple Question Types
OnlineExamMaker is all-in-one online exam software to help exam administrators to assess exam tankers in a variety of ways, it provides up to 10 question types, including (1)Multiple choice, (2)Multiple responses, (3)Fill in the blank, (4)True or false, (5)Essay, (6)Matching, (7)Sorting, (8)Cloze, (9)Comprehension, (10)Indefinite item. You can use them to collect answers from a host of candidates, such as students, employees, training participants, friends, customers and more.
Multiple choice questions
Multiple response questions
Fill in the blank questions
True or false questions
Essay questions
Comprehension questions
Matching questions
Sorting questions
Cloze questions
Multiple choice questions

The multiple choice question allows candidates to select only one correct option from a list of choices. It's an objective question type that displays each question option using a radio button and allows exam takers to click only one answer. 
Multiple response questions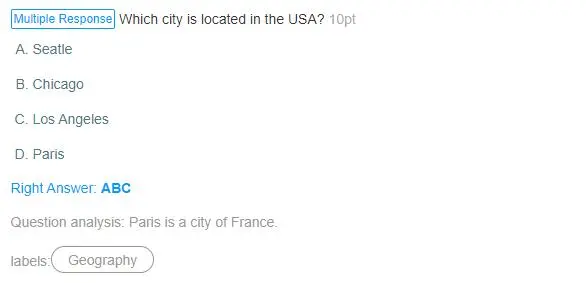 The multiple response questions have multiple possible correct answers, and the question options are commonly shown with square checkboxes. The candidates are allowed to check off multiple options during the exam.
Fill in the blank questions

The fill in the blank questions allow exam takers to type an answer for each blank space.
True or false questions

You can create a question for students that is a true or false answer. This type of question allows students to answer questions by selecting either the True option or a False option during the exam. You can custom the options of "True or False" with "Yes or No", "Right or Wrong", etc.
Essay questions

If you want your candidates to write an open answer, a short essay, or a comment, you can use essay question type. The essay questions are subjective questions that can not be graded automatically by our exam system.
Comprehension questions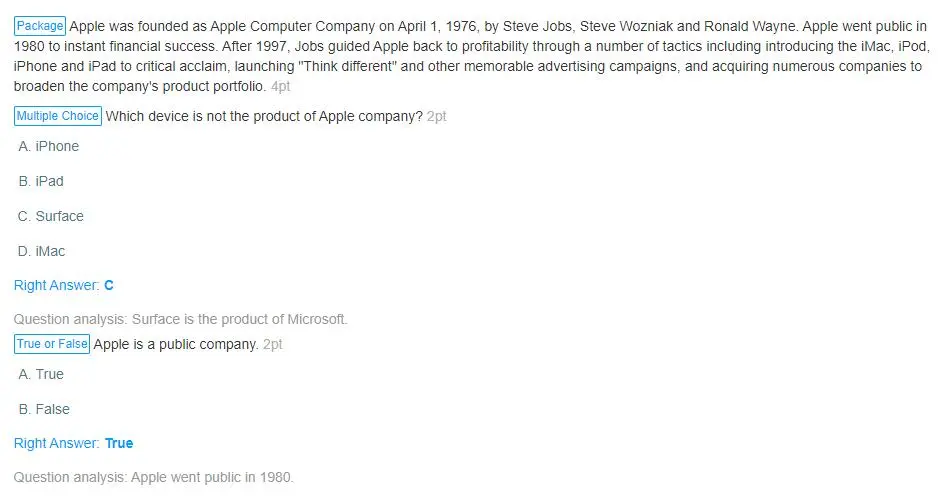 The reading comprehension questions are designed to measure how well a candidate understands what he read. The exam takers are required to answer questions after they read a piece of text.
Matching questions
For matching questions, exam takers are asked to match together pairs of questions and answers.
Sorting questions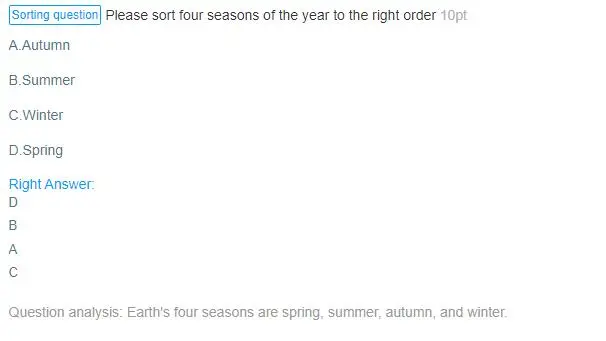 Sorting questions allow exam takers to rank the question options in the correct order.
Cloze questions

Cloze questions allow exam organizers to assess learners with a series of multiple-choice questions.